Maklumat produk.
Eloquently Maximizing Large Workspaces
Specially made for file organization and space efficiency, Wintech Mobile Compactor maximizes the storage capacity of your current space, creates more "people" space, and helps you focus on your important tasks.
Introduction
The nearly unlimited storage solutions Wintech Mobile Compactor offers will address your specific storage needs.
Ideal For:
Office Supplies
Medical Supplies
Backroom Inventory
Sporting Goods
Parts
Law Books
Media
Tools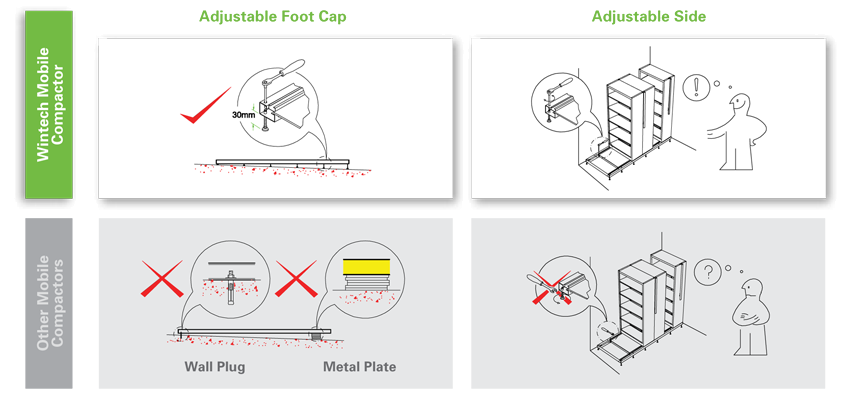 Platform with adjustable foot caps (no drilling or pre-leveling on the floor is needed)
Foot cap height adjusts up to 30mm
Rails are made of 3mm cold rolled steel using laser cut process
Pre-treatment process which includes deionized water rinse, followed by electrostatic polyester-epoxy powder coating as standard finish
Industrial wheels – quiet & strong
Standard in track anti-tilt mechanism
TYPES
SPECIFICATIONS
MATERIAL
Cold Rolled Steel
FINISH
Epoxy Powder Coating
SHELF SIZE
910(W) x 355(D) x 25(H)
WIDTH
980
HEIGHT
2150
NO. OF SHELF
4 pieces per bay
LOADING PER SHELF
40kg UDL
AISLE SIZE
800mm
MATERIAL THICKNESS
Base : 1mm, Back Panel : 0.6mm, Rail : 3mm, Platform : 18mm Chipboard,
Top Panel : 0.8mm, Side Panel : 0.8mm, Shelf : 0.6mm
RAIL
Made of 3mm Cold Rolled Steel Using Laser Cut Process and with Adjustable Foot Cap
WHEEL
D60mm Bearing with Nylon Coating, Loading : 150kg/ Wheel
MOVEMENT
Left/ Right
Model: HMC004

DESC : DESC : HMC SHELF
DIMENSION : 910(W) X 355(D) X 25(H)
PACKING DIM : 930 X 375 X 40
WEIGHT / VOL : 2.2 KG / 0.01 M³

Model: HMC005

DESC : HMC LATERAL FRAME
DIMENSION : 840(W) X 355(D) X 79(H)
PACKING DIM : 860 X 375 X 90
WEIGHT / VOL : 5 KG / 0.03 M³

Model: HMC006

DESC : HMC DRAWER
DIMENSION : 840(W) X 355(D) X 150(H)
PACKING DIM : 860 X 375 X 160
WEIGHT / VOL : 6 KG / 0.05 M³

Model: HMC007

HARGA: RM227.00 - RM303.00

DESC : HMC SWING DOOR
DIMENSION : 840(W) X 18(D) X 1895(H)
PACKING DIM : 60 X 450 X 1930
WEIGHT / VOL : 15 KG / 0.05 M³